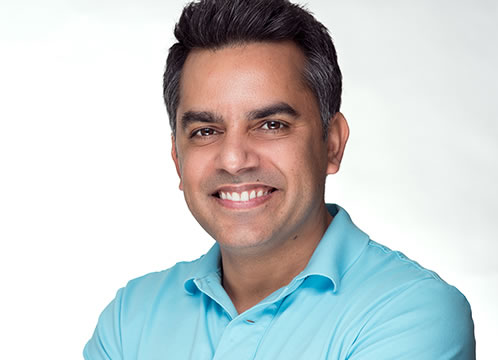 Dr. Rinku S. Saini is dedicated to providing each patient with age-appropriate care, without relying on sedation for treatment. Instead, he takes time to gain the child's trust and engage with each boy or girl in a friendly and non-threatening manner. With his calm, patient, and reassuring presence, he helps even the most anxious youngster relax and feel secure.
Dr. Saini believes the "one doctor for one family" treatment model provides stable continuity of care and builds trust between the family and doctor. He is skilled at explaining technical processes in an easy-to-understand manner, encourages questions from his patients and families, and thrives on earning a child's heartfelt smile.
A father himself, Dr. Saini knows each child is an individual and requires care that meets all clinical, emotional, and developmental needs. He talks with patients before, during, and after treatment, and constantly offers encouragement and praise as children develop healthy smiles and habits.
His greatest reward is helping a fearful child feel safe in his hands, and knowing the little one will carry that positive feeling for the rest of his or her life.
Education and Professional Activities
Bachelor's degree in biological sciences – University of California, Irvine, 1999
Master of Science in cell and molecular biology – University of Hawaii, Manoa, 2000
Doctorate in Dental Surgery – Columbia University College of Dental Medicine, 2005
Master of Public Health – Columbia University Mailman School of Public Health, 2005
General practice residency – University of California Los Angeles, V.A. Medical Center at Sepulveda
Hospital-based pediatric dentistry residency, Children's National Medical Center, Washington, DC
Prior to attending dental school, Dr. Saini was a fifth grade teacher in Southern California. This experience helped guide his decision to become a pediatric dentist and continues to inspire his interest in education.
Dr. Saini was a full-time faculty member at Columbia University School of Dental Medicine and the University of the Pacific (UOP) School of Dentistry in San Francisco. At UOP, he lectured on oral health of children with special needs, dental management of pediatric patients with complex medical conditions, and management of pediatric dental trauma.
Currently, Dr. Saini serves on the volunteer faculty at UOP and the University of California, San Francisco. He frequently teaches and lectures, and participates in many study groups.
Dr. Saini is an active member of the:
American Academy of Pediatric Dentistry
California Society of Pediatric Dentists
American Dental Association
California Dental Association
Contra Costa Dental Society
These organizations offer numerous continuing educational opportunities, including meetings, seminars, lectures, and hands-on courses. Dr. Saini takes advantage of every opportunity to learn the latest information, and to study advancements in technologies and treatment methodologies.
Beyond the Office
Dr. Saini's happiest times are spent with his wife, Pelin Cinar-Saini, MD, and their young son, Ari. The family loves to explore the Bay Area's beauty and nature, and enjoys bike rides, attending concerts, and watching the Warriors and Lakers play.